Commission slots are now filled. Thank you for submitting a form. Here is the work list.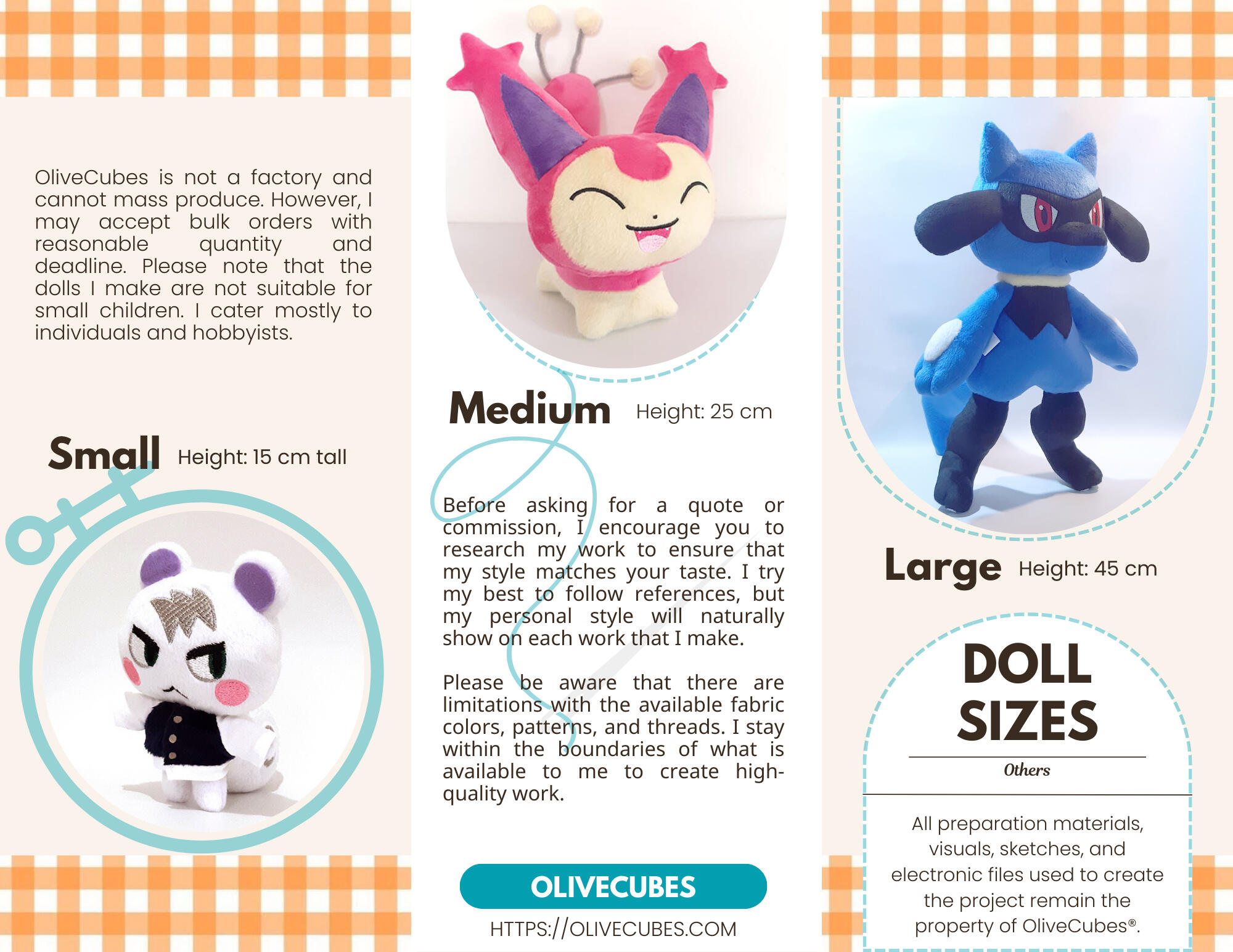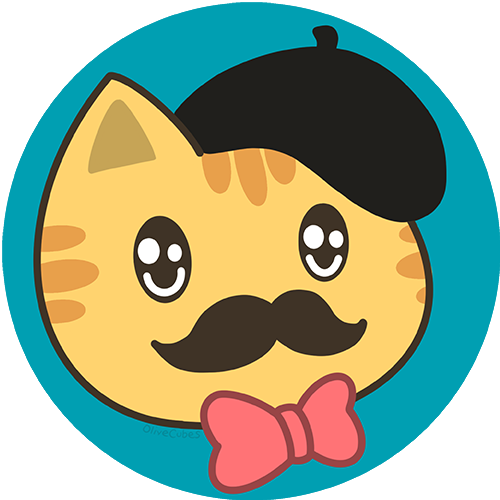 Commissions
⛔ Commissions are closed ⛔
What kind of commissions do you accept?I accept the following: plush dolls, face masks, doll clothes, and embroidered patches. Commission slots are made available throughout the year. Availability of slots will depend on the amount of work I can handle. Plush making is not my full time job. Announcements are done through social media (Instagram, Facebook, Twitter).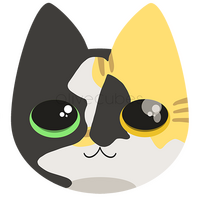 ---
Price GuidelinesYou may ask for a quote. Prices will vary based on design and complexity. More details means higher costs. Plush doll accessories and clothing will add to the cost. A small item does not guarantee a lower price. Cost will include; materials, equipment, pattern, detailing, cost of labor, and delivery cost. The initial quote will include two (reasonable) rounds of revisions, anything past that will then incur additional costs. Quotes are valid for only six (6) months.We use a number of different fabrics. Face design and small details may be machine embroidered, hand sewn, and/or hand painted along with thread sculpting.
No Form = No Price QuotePlease fill out our "Get a Quote form" linked below. Help me keep things organized. The form may not be available to help me prioritize the current commission list.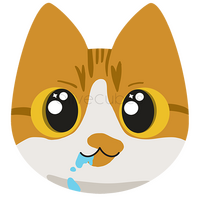 ---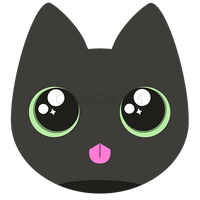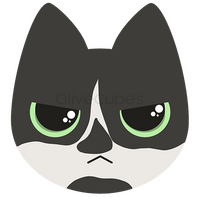 ---
Payment, Cancellation, and RefundsPayment may be received in full or in installments. A non-refundable deposit of 50% must be received before I begin the commission. Final payment must be received after I send the first WIP (work in progress) photo/video. I will provide an invoice to confirm that I have accepted the commission request. There will be NO REFUNDS except when I am unable to work. Cancellation and refund is only allowed before the work starts. Client will shoulder fees that was charged to my account.A commission order is considered abandoned when the balance is not paid within 60 days. The deposit for abandoned commission orders will be forfeited and the item will be sold to the next interested buyer.
Payment channels:
Paypal (International, USD)

Bank, e-cash transfer (Local, PHP)
Work ScheduleI am unable to accept deadlines. Each order is unique and the time of completion varies greatly. Patience is an absolute must to ensure the project's quality. Unforeseen delays could happen. I do my best to inform clients if I am unable to work or if I need to take a break to avoid stress and burn out. I was diagnosed with CTS (Carpal Tunnel Syndrome) which requires me to take breaks more often. This shortened my sewing time from 8hrs to 4-5hrs a day.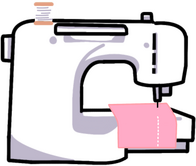 ---
❗❗❗ Important ❗❗❗OliveCubes is not a factory and cannot mass produce. I may accept bulk orders but with reasonable quantity and deadline. The dolls that I make are NOT suitable for small children. I cater mostly to individuals and hobbyists. Please research my work before asking for a quote or a commission. I try my best to follow references. However, my personal style will naturally show on each work that I make. You should decide if my style will match your taste.
🚫 I will not make... 🚫
designs based on another plush artist's work or copy their work

a copy of a mass produced design

designs that are overly complicated/detailed

designs that has any of the following: Too many colors, patterns, gradients, details, props

designs I perceive I cannot make or I am uncomfortable with.
Other important information:
I will put a tag with my name on all finished commissions

You are paying for the finished item, not the pattern, not the file. This also applies to original characters/designs. You cannot claim the pattern and file as yours

I have the right to remake a design to sell, except for original characters/designs

I will post finished work to my social media and gallery/portfolio

I reserve the right to refuse a commission.
Care and Maintenance
How to care and maintain your plush doll/soft toysMachine wash:
▪ Place the plush doll inside a mesh laundry bag or a pillow case. This protects your plush doll from snagging or being pummeled too much in the machine
▪ Always wash it on the gentle/delicate cycle. Use cool water and mild detergent
▪ Gently squeeze out excess water. Hang dry. If you need to use the dryer, use the lowest setting and do not hot tumble-dry.Hand wash:
You will need:
▪ Clean toothbrush or washcloths
▪ Wash basin
▪ Laundry detergentDirections:
▪ Dissolve your laundry detergent in cool water
▪ Dip your wash cloth into the detergent solution and squeeze out the excess water. In a circular motion, gently rub the outside of the plushie. Continue doing this until the whole plush doll is clean. If there are stains, dip the toothbrush into the detergent solution and very lightly scrub the stain to avoid damaging the plush doll. Leave to soak in soapy water if the stains won't come off
▪ Wet the other washcloth under cool running water leaving it fairly wet and rinse the plush doll in a circular motion. Rinse the wash cloth several times as needed to remove the detergent
▪ Gently squeeze out excess water. Hang to dry.When the plush doll is dry, you may want to fluff it up and gently comb it.❌ DO NOT use bleach. DO NOT hot tumble-dry ❌
❗ The dolls that I make are not suitable for small children ❗
---
How to care and maintain your bags (ita-bag)Faux leather material
To keep bags made out of faux leather, I would recommend Wipeout Dirt and Stain Remover. This can be easily obtained locally (Philippines). It's cheap, easy to use, and you'll most likely find useful on cleaning other stuff. You can use it on leather, vinyl, shoes, appliances, laptop surfaces, glass, etc. This is what I use on my personal bags so they will stay nice and shiny. You will need a cleaning rag or paper towels. Dip the rag into the Wipeout tub then gently rub it on the area that you want to clean. Clean the area and use another rag if needed to remove the excess Wipeout and dirt.
Faux fur material
Please refer to the "How to care and maintain your plush doll/soft toys" sectionOther materials
▪ Cotton: Hot Water Wash — Tumble Dry Warm
▪ Polyester: Cool Water Wash — Tumble Dry or Air Dry
---
How to care and maintain your embroidered patch
Don't wash or dry the fabric that has patches glued onto it using extreme heat -- hot water or an extremely hot dryer can soften the glue and cause the patches to come off. Wash on a cool setting, and dry on a medium or low setting.Is it better to sew or iron on a patch?
Iron-on patches can be sewn on any fabric. Sewing on the patch is highly recommended if you are attaching patches to fabrics which are heat sensitive or if you will be laundering them frequently.
---
Repair, Maintenance, Restoration
If you will need plush doll repair, maintenance, and/or restoration; please contact me through any of the following: email, DM, Contact Us form. This is only applicable to plush dolls that I've made. Not applicable to bags, patches, stickers, button pins, etc. I am also open to the idea of restoring plush dolls that I did not make. Please contact me to discuss further.
Terms & Conditions
Refund policy
ALL SALES ARE FINAL.
We don't accept returns or exchanges. But please contact us if you have any problems with your order. Please, read the full description of the item before ordering and make sure that it is exactly what you want to get.
---
Shipping policy
All orders will be sent out on Tuesday every week. Orders placed on a Tuesday after 12:00 (GMT+8) will be sent out the following week. Price may change due to the quantity/size/weight of the package. All packages comes with a tracking/reference number. We thoroughly inspect the items and make sure that they are properly wrapped for shipment. We will not be liable for any damage during shipment.
🌴🌞Ships out from the Philippines🌴🌞❗COVID-19 delivery update❗🌏 International orders 🌏
PHL Post is able to deliver to select countries
▪ United States: 20 business days or more
▪ Australia: 20 business days or more
▪ Canada and Europe: 1 to 3 months or moreCustoms and import taxes
Buyers are responsible for any customs and import taxes that may apply. I'm not responsible for delays due to customs.🛵 Metro Manila
Lalamove, Grab Express; same-day-delivery🚚 Provincial
J&T Express, 2-5 business daysAll orders comes with a tracking number.When you receive a package from us, you may encounter some re-purposed packaging materials. We are conscious of keeping our footprint small and limiting the amount of waste we generate. So, rather than buying new packaging materials, we re-purpose what we have hanging around. See if you can keep their life going (and pay it forward) by finding clever ways to re-purpose them.
About
Hello. I'm Olive a doll maker/illustrator/embroiderer from Manila, Philippines. OliveCubes is where I share my creations. I started making dolls back in 2012 and has since then expanded to an assortment of items.Here at OliveCubes, we create soft toys inspired by anime, manga, TV, film, and pop culture references. Our toys are locally made and handcrafted. We use an assortment of soft, vibrant fabrics to achieve the overall shape and look that we need. We try to capture the imagination of people, both young and old with added nostalgia.